Melbourne's Trusted Electricians 2019

Reknown Reputation
We aim to leave a positive impression on every one of our clients, treating their home or business as we would our own home.

Workmanship Guaranteed
We stand by our workmanship. If you have an issue with work we've completed in the future, you can always call to have us take another look.

Punctual and Efficient
We arrive on time, and work professionally and efficiently, so you can get back to what's important!
CAN WE OFFER ADVICE OR HELP YOU WITH ELECTRICAL WORK?
Finally, an Electrician Who Really Knows Kingsville 
When they need assistance fast, everybody's biggest fear is a lazy or unreliable tradie. The so-called emergency plumber who shows up three hours late, the mechanic who never seems to do anything to your car, or the electrician who doesn't know how to screw in a lightbulb!
At Millerwatts Electrical, we pride ourselves on providing a service that stands above the rest. If you're looking for an electrician in Kingsville, call the team that will come to you at the most convenient time.
Our professionals pride themselves on providing polite and punctual services with great communication – and that's not just talk. Get in touch with our team and we'll get to know your needs and come to your home or business in Kingsville when you need us. Of course, things can go wrong, and if we're ever delayed, we'll call you straight away, so you're not left wondering.
As well as providing professional residential electrical services, we are also the commercial electrician Kingsville businesses can turn to. Whether it's at home, at your small family business, or at your large commercial firm, we'll ensure safety, efficiency, and compliance in our tech-savvy solutions.
Millerwatts Electrical can help you with everything from residential electrical installations to emergency repairs and commercial electrical maintenance. Fast, affordable and personalised, call our team today to get the job done. 
If You Live in Kingsville or the Surrounding Suburbs, We've Got You Covered 
You'll never be left stranded when you need electrical services in Kingsville or the surrounding suburbs. The friendly team at Millerwatts will gladly come to you. Proudly serving Melbourne's suburbs and rural Victoria, we truly are the "electrician near me" that you need. Nearby Kingsville, we can help you with commercial and residential solutions in Yarraville, Seddon, Tottenham, Sunshine, Braybrook, Maidstone, Maribyrnong and more.
So, What Are You Waiting For? Get Your Electricity Fixed the Right Way and Save Your Kingsville Home from an Electrical Disaster 
Wherever you are in Kingsville or the surrounds, Millerwatts Electrical is the friendly, personalised, fully-equipped team who can help you. Give us a call today to get started.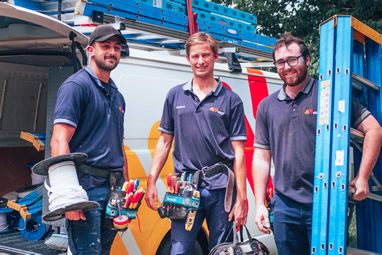 If you have an emergency electrical requirement or would like to discuss your project, please call us now.