Melbourne's Trusted Electricians

Reknown Reputation
We aim to leave a positive impression on every one of our clients, treating their home or business as we would our own home.

Workmanship Guaranteed
We stand by our workmanship. If you have an issue with work we've completed in the future, you can always call to have us take another look.

Punctual and Efficient
We arrive on time, and work professionally and efficiently, so you can get back to what's important!
CAN WE OFFER ADVICE OR HELP YOU WITH ELECTRICAL WORK?
Finally, an Electrician Who Really Knows Braybrook 
If you're looking for an electrician in Braybrook who you can really trust, look no further than the team at Millerwatts Electrical. Proudly serving Melbourne and rural Victoria, we can come to your home or business and provide all the services that you need.
That's right – we're the residential and commercial electrician Braybrook can rely on. So, whether you're looking for commercial maintenance and repairs or someone to assist you with data points at home, Millerwatts can come to you.
There's nothing worse than calling a tradie and being stuck at home for hours, waiting for them to come. At Millerwatts Electrical, we pride ourselves on our punctuality, professionalism, and communication. Our locally based Braybrook electricians can get to your premises fast, and if there ever is a delay, we'll make sure you know about it. Your home or business electrical troubles aren't just another number to us! We pride ourselves on getting to know you in order to provide personalised advice on a schedule and timeline that truly suits you.
Millerwatts Electrical provides a full suite of electrical services and solutions for Braybrook and the surrounding suburbs. Ask us for complete assistance with air conditioners and switchboards, ceiling fans and sockets, residential lighting and commercial electrical maintenance. When it comes to all things electrical, there's not much we can't do! 
If You Live in Braybrook or the Surrounding Suburbs, We've Got You Covered 
We understand that when you call an electrician near Braybrook, you want results fast. Millerwatts truly is the "electrician near me" you've been looking for. Affordable, fast, and there for you in an emergency, we can also help you in Sunshine, Maidstone, Tottenham, Kingsville, Yarraville, Seddon, Maribyrnong and beyond! Whether it's for your home or business in any of these areas, we'll be there for you.
So, What Are You Waiting For? Get Your Electricity Fixed the Right Way and Save Your Braybrook Home from an Electrical Disaster
Don't wait to get the electrical services you need. For a fast and friendly residential and commercial electrician, Braybrook residents and locals from the surrounding suburbs can call our team today!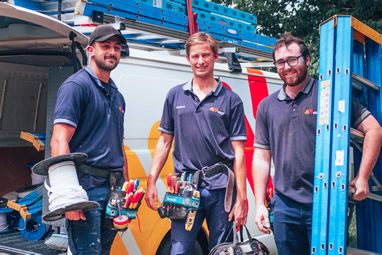 If you have an emergency electrical requirement or would like to discuss your project, please call us now.