We are COVID-19 aware and still trading. We are employing strict hygiene practises to minimise the spread of the virus and to keep our clients homes safe. Please raise any further concerns you have with us prior to the appointment.
We are COVID-19 aware, hygienic and still trading.
Electrician Melbourne Millerwatts was founded by Cameron Miller in 2015. After working for several electrical companies and gaining experience in the residential and commercial sectors, Cameron felt a desire to provide an excellent service to residents and business owners of Melbourne, focusing on an excellent customer experience, and long lasting relationships. Starting out as a single man operation, we're now slightly bigger, but still give each job, no matter the size, the same attention that the client deserves.

Trustworthy
Our business is built on reputation and word of mouth. You can trust that we'll do the right thing by you.

Locally-Owned
Owned and operated solely in Melbourne, you can be sure you're supporting local business and local jobs.

Guaranteed
We offer a lifetime warranty on our workmanship. If you have any issues in the future, were only a phone call away.

Very responsive, helpful, do very high quality work at a very reasonable price.

Roger Mouton
15:04 07 Jun 22
Electrician came exactly on time, was polite and the job was performed efficiently. Responded to my enquiry quickly aswell. Great service

Shona Brady
05:59 21 Apr 22
A very professional service with excellent communication

Quintin Brennan
00:17 21 Apr 22
Excellent service / Arrive on time / Give a good summary of the issue / Conducted work in a professional manner

service service
01:33 20 Apr 22
Excellent and prompt as always, very friendly and professional

Andrew Knox
04:35 14 Apr 22
Having used this company before I was confident that they would resolve the issue in a prompt and professional manner, which the did.I was comfortable that their charges would be reasonable and again they were.

Jeff Tanti
07:26 12 Apr 22
Often pupil treat their Job, just as a Job. Exceptional pupil treat their Job, Not Just a Job, BUT...... As a Commitment. Adrian who attended my premises today, is one of those...!!! As professional as you could get. Thank you Adrian for your services. Most likely, you will be providing services to my friends and families in future. Kind Regards, Harry

Harry khan
00:59 11 Apr 22
Punctual, responsive and professional. I would definately recommend this business.

Corinne Getty
05:49 03 Apr 22
This is the second time we've used Cameron. The current job was relocating a floodlight. This turned out to be a much more complicated problem than we anticipated because the wiring was hard to access and dealing with a double brick wall. MillerWatts were committed to doing a good job that we were happy with. A feature was good communication especially around timing. The end result looked great. They thoroughly cleaned up after the job. Highly recommended.

Always professional, punctual and perform each task quickly and efficiently. Always our go to electricians—thanks guys!

Emma Nicholas
23:45 28 Feb 22
They are very professional and provide really a very good service. We booked through our property agent and electricians were right on the time.Thanks Ben and Daniel for getting fan replaced.

Jags Suthar
00:15 24 Feb 22
Great service. Sent enquiry in morning and electrician came that afternoon. Perfect job. Highly recommend

Ben Sutton
01:16 18 Feb 22
Super professional team who show us when they say they will, do excellent work, and talk through options before going ahead. I can't recommend them highly enough and will be using Millerwatts for all our future works (which in a house this old, will new a fair bit!)

Samantha Porter
23:17 15 Feb 22
Really friendly and efficient service. Will definitely use again!

Zain Wadee
23:51 14 Feb 22
So important to see speed and intelligence, very professional.

Ray Cowling
22:43 14 Dec 21
Cam was a superstar; right on time, professional and friendly, and very efficient!

Jaimee Salmon
21:54 14 Dec 21
Extremely responsive and professional. Installed pendant lights, bathroom lights which has made both areas look completely new and removed some old electrical items that came with the place we purchased very well. Highly recommended.

Justin Bennett
07:19 07 Dec 21
Miller Watts will be our go to sparky from now on - very prompt, friendly and they found our problem and fixed it very quickly.

Adam Dettrick
08:46 19 Nov 21
Thank you to the team at Millerwatts for installing new bathroom fan, light switches and power point in a tiny CBD apartment. Job was scheduled promptly, very knowledgeable with recommendations, arrived on time on the day and left site clean. Would recommend Millerwatts for all future electrical tasks. Thanks again guys, Judy.

Adrian was very fast, efficient and his communication prior to arrival and throughout the day was exceptional. He cleaned up after himself and seamlessly worked around me, which is no small task when you are working from home in a small 1 bed apartment.I would highly recommend using this Millerwatts for all of your electrical needs.

Sandra VanderAa
23:42 26 Oct 21
I would highly recommend Cameron from Millerwatts Electricians! I am a new home owner and really appreciated his expertise and responsiveness. Very happy and would definitely call on them again for future repairs or installations!

sally phillips
10:20 15 Oct 21
Extremely happy with the quality of the work. Communication was easy, and they were incredibly quick to perform the work (the job was complete within 24 hours of requesting a quote!).

Emily Barber
00:27 01 Oct 21
You are really a professional in your field and highly efficient in completing the job. You had resolved my long time issue within one hour. I had a very old electrical panel and they resolved in a very short time. I am very satisfied with the way to deliver your service professionally and efficiently.

Yong Resch
10:17 02 Sep 21
Really good communication with Cameron, Adrian and Ben. One urgent and a couple of smaller jobs, and booked for a larger number of upgrade/repair/install items shortly. Highly recommended based on experience to date.

The team at Millerwatts were great to deal with and super respectful and professional. They installed an induction cooktop for me, as well as a couple of new light sockets. They cleaned up after themselves and even checked the filter to my air conditioner as an added bonus. Very happy 🙂

Elizabeth Tighe
04:11 24 Aug 21
I recently got a split system installed. I was very impressed by the professionalism, the responsiveness and the quality of work. The price was reasonable also. I will be recommending this company to my friends and will use them again. Highly recommend!

Marta Pajak
23:38 17 Aug 21
Cameron and the team at Millerwatts were fantastic with their communication and are highly professional and knowledgeable. They got the job done in a timely manner. I would highly recommend Millerwatts Electricians for all electrical jobs.

Chris Velevski
07:17 16 Aug 21
The guys were friendly and got the job done.Quick response to query and quickly got back to me with times.Work was great, keep me informed.Will use then again.

McKenna Lau
02:16 06 Aug 21
Cameron and his team were a pleasure to deal with. He recommended a solution to a lighting issue I had which helped a lot and looks great. I would definitely use Millerwatts again without hesitation and highly recommend them to anyone looking for an honest and reliable electrician

Great service from the team - quick response to request for service. The repair work done for lighting fixtures was professional and efficient, with questions on what was done clearly explained. Would definitely use again and highly recommend.

Alison Chua
00:12 15 Jul 21
Very happy with the work done and advise provided at my home in Hawthorn.

Robert Anderson
02:36 13 Jul 21
We had bathroom exhausted fan problem and Millerwatts electricians provided amazing service from beginning til the end. I'll definitely contact again for any future electrical issues in my apartment.

Finally found a reliable Electrical service. First class.

mark davies
04:26 06 Jul 21
Adrian & his apprentice were great. Had issues with the power points not working upstairs & a cheap n' nasty light switch that decided to pop off the wall making it unsafe to operate. All fixed, all good & thankfully with my Chihuahua not being in the house, the guys were safe too.Thank you MillerwattsSusan R

Susan Roskovic
08:35 30 Jun 21
Very good and friendly service. They replied to all my inquires in a timely manner. Highly recommended!

Juan Rodriguez
23:45 29 Jun 21
Cameron and Adrian were so professional, friendly and efficient. Their work was completed in a neat and timely fashion. I would definitely recommend their services.

Kia Sadler
00:00 29 Jun 21
I had Millerwatts Electricians install a downlight and investigate an extraction fan issue for the en-suite bathroom. Both jobs were efficiently handled and Adam, who attended to the jobs, was thoroughly professional. Adam showed up on time and the jobs were implemented with little fuss. Overall, I found dealing with Millerwatts Electricians (through Adam and Cameron) very satisfying, particularly with the quality of the work done and the fairness of the pricing. I would therefore, without hesitation, recommend Millerwatts Electricians, to anyone needing electrical work done.

Millerwatts came to help us with the electrical safety check and repairs. We've previously used them during our renovations and they've always been great to work with. Very trustworthy and professional. Highly recommend!

Elizabeth Guyler
21:45 23 Jun 21
Millerwatts has helped us out on a couple of occasions and service has been very prompt, friendly and efficient, can recommend.

Doug Sandiford
02:28 20 Jun 21
Cam from Millerwatts came out quickly to replace our old and out-dated smoke alarms. Gave sensible advice, charged a reasonable rate, did a great job. Friendly and professional - highly recommended.

Mark Bretherton
09:17 30 May 21
The Millerwatts team were very professional and easy to deal with. Quite some attention to detail in things light alignment of lights and power points were greatly appreciated. Very happy with the results.

Dean Travers
01:52 27 May 21
I had some data points placed throughout my house to avoid the treacherous nature of Wifi.Arrived smack-bang on time and were very friendly and professional. The boys cleaned up after themselves, moved the furniture around no problems and had the installs perfectly aligned with the existing face plates. They included some extra ethernet cables so we could be up and running right away.Great work, fellas, I really appreciate it.

Lennon Matchett-Oates
01:12 21 May 21
Great communication, reliable and extremely professional service. I use many different trades for work on various properties and these guys are the standard all others should aspire too. Thanks Cameron and crew.

Chris Stephens
00:58 17 May 21
Cam and his team were very easy to deal with in getting a quote, arranging required materials, and throughout the two jobs they have completed for me. The guys always turned up on time and minimised disruptions whilst they were here - couldn't ask for much more really!

Matthew Yarwood
09:12 03 May 21

We aim to leave a positive impression on every one of our clients, treating their home or business as we would our own home.

We stand by our workmanship. If you have an issue with work we've completed in the future, you can always call to have us take another look.​

We arrive on time, and work professionally and efficiently, so you can get back to what's important!
CAN WE OFFER ADVICE OR HELP YOU WITH ELECTRICAL WORK?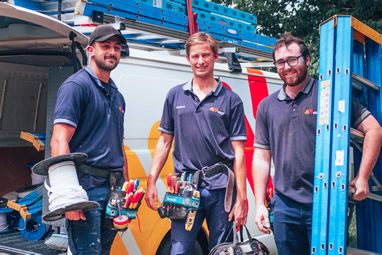 If you have an emergency electrical requirement in the Greater Melbourne region or would like to discuss your project, please call us now.