Melbourne's Trusted Electricians 2020

We aim to leave a positive impression on every one of our clients, treating their home or business as we would our own home.

We stand by our workmanship. If you have an issue with work we've completed in the future, you can always call to have us take another look.​

We arrive on time, and work professionally and efficiently, so you can get back to what's important!

Elaine Hadj
Exceptional service – reliable, honest and prompt! Thank you very much to Cameron and his team – couldn't have asked for more. Definitely will use your service again.

Barbara Bolt
Cameron has a "can do" attitude in setting the job in motion and Adam did a lovely job and meticulously cleaned up after!!! The price was fair, the job was well done and done with courteousness and efficiency after which Cameron followed up. I would definitely recommend Millerwatts and will use them again.
Ismar Fazlik
Reliable, cost competitive and high quality workmanship. The experience was very positive and will use them again. Thank you.

Joel Callelo
I was extremely pleased with the professionalism of Cameron and his team. From the time Cameron came and quoted, the communication and workmanship from the team was outstanding and would definitely recommend to anyone. I have used a number of tradesman for various jobs around my house, but none of them have gone to the lengths that Cameron and his team did in delivering the task at hand. Job well done and once again would highly recommend to anyone.

Kevin Paterson
Cameron and his team are excellent, i highly recommend Millerwatts. Reliable, efficient, great communication and very polite. Cameron is always happy to discuss the job in detail and ensure that everything is done to customers satisfaction, even going beyond what was needed to ensure it is done right. Great Job!
Doris Freiberg
Highly recommend this business. I had need of their troubleshooting to fix a power inlet problem on my Motor Home. Avery courteous electrician came promptly same afternoon that I called. Informed me every step of the way as to what he was doing, working in a very tight spot under the bed, without complaint. Eventually the fault was found & fixed. Cost was a very pleasant surprise as well. Again, highly recommend these people.
Teecee
We needed an electrician ASAP to replace faulty smoke alarms that were going off every 20 minutes. I called three electricians before calling Millerwatts. Cameron explained what he would need to do and arranged a time on the same day. He arrived on time as agreed and completed the job perfectly. He was also accommodating with our requests. Highly recommend. 🙂
M H
Reasonably priced. On time and professional work. Will find best practical solution. Stress free. Customer satisfaction guaranteed.
Michael Pegg
Once again very happy with how Cam's crew sorted out our problem. Just a small job but they were on time, fixed it with minimum fuss and kept things clean and tidy. Can't ask for much more.

Georgina Ednie
Cameron & Adrian were efficient but also considered in the placement of our new lights. Highly recommend
CAN WE OFFER ADVICE OR HELP YOU WITH ELECTRICAL WORK?
A small electrical and communications business operating out of Melbourne's western suburbs, servicing Melbourne and rural Victoria in the categories of residential and commercial. We believe in quality, long term relationships with our clientele.

Trustworthy
Our business is built on reputation and word of mouth. You can trust that we'll do the right thing by you.

Locally-Owned
Owned and operated solely in Melbourne, you can be sure you're supporting local business and local jobs.

Guaranteed
We offer a lifetime warranty on our workmanship. If you have any issues in the future, were only a phone call away.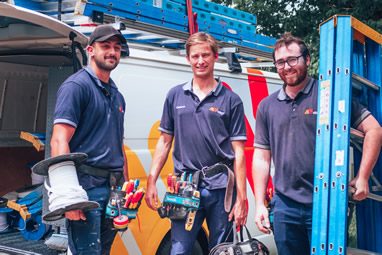 If you have an emergency electrical requirement or would like to discuss your project, please call us now.