We are COVID-19 aware and still trading. We are employing strict hygiene practises to minimise the spread of the virus and to keep our clients homes safe. Please raise any further concerns you have with us prior to the appointment.
We are COVID-19 aware, hygienic and still trading.
Electrician Melbourne Millerwatts was founded by Cameron Miller in 2015. After working for several electrical companies and gaining experience in the residential and commercial sectors, Cameron felt a desire to provide an excellent service to residents and business owners of Melbourne, focusing on an excellent customer experience, and long lasting relationships. Starting out as a single man operation, we're now slightly bigger, but still give each job, no matter the size, the same attention that the client deserves.

Trustworthy
Our business is built on reputation and word of mouth. You can trust that we'll do the right thing by you.

Locally-Owned
Owned and operated solely in Melbourne, you can be sure you're supporting local business and local jobs.

Guaranteed
We offer a lifetime warranty on our workmanship. If you have any issues in the future, were only a phone call away.

Cam and his team were very easy to deal with in getting a quote, arranging required materials, and throughout the two jobs they have completed for me. The guys always turned up on time and minimised disruptions whilst they were here - couldn't ask for much more really!

Matthew Yarwood
09:12 03 May 21
We had Millerwatts Electricians examine an LED down light which was not working. The electricians who attended readily identified a faulty driver, and supplied and installed a replacement driver. They were on time, were efficient in addressing the problem, and clearly explained to me what they did. I will definitely be using this company again.

Elizabeth Manias
00:48 09 Apr 21
Absolute gems. Would use them over and over again.

Elizabeth Freeman
22:32 17 Mar 21
Cam and his team are fantastic. They promptly responded to quote for some electrical works in the middle of a protracted renovation post Covid and couldn't have been more accommodating. Offered expert advice and the most efficient solutions were explored and sorted out really well. Any issues after the fact were also quickly attended to with full accountability - you can tell Cam take's pride in his work and his business. Highly recommended if you'd like high quality service that's efficient and won't have you wondering if the best and safest work has been carried out - because it absolutely will have.

Reymon Makkar
00:44 21 Nov 20
Very professional friendly and gave good advice.Will call again

Clare Lethbridge
06:28 28 Oct 20
Very professional, we have engaged services multiple times and will continue to do so.Great team, well done Cam.

Malini Whiting
08:16 04 Oct 20
These guys are great, on time, good work and very pleasant. Well done guys.

Craig McIntyre
11:11 01 Oct 20
Often pupil treat their Job, just as a Job. Exceptional pupil treat their Job, Not Just a Job, BUT...... As a Commitment. Adrian who attended my premises today, is one of those...!!! As professional as you could get. Thank you Adrian for your services. Most likely, you will be providing services to my friends and families in future. Kind Regards, Harry

Harry khan
07:43 18 Sep 20
Very responsive and professional. I feel 100% confident that the work done is of a high standard

Corinne Getty
09:53 17 Sep 20
Had a wonky light switch. Called, and within the hour they were here to fix it. Quick, professional, friendly. Would recommend to anyone.

Matthew Dunn
01:08 14 Sep 20
Cam and his team are extremely professional. They were extremely accommodating, as we had a last minute request, were on time and completed the electrical works efficiently and to a very high standard. I couldn't recommend them enough and will definitely be using them again.

Natalie Hackett
00:35 01 Sep 20
Excellent service from the point of booking to the job being complete. I selected these guys somewhat randomly based on their 5 star rating - easy to see why they have it. Would thoroughly recommend them. Kieran

Really quick response and fixed our light with ease and professionalism. Thanks!

Emma Armitage
02:32 29 Jul 20
Prompt and very helpful with my not so straightforward small job, very happy.

Customer service over the phone was very friendly and helpful. Cameron provided me with all the information I required. Service provided was professional, efficient and friendly. Would definitely recommend these guys.

Great service, professional and quick! They were able to come out to fix my lighting issue in the same day that I contacted them at a reasonable price. Definetely will be using Millerwatts again.

Emmanuela Costaras
07:56 23 Jul 20
I highly recommend Millerwatts Electricians, very professional, thank you for my new down lights very friendly and efficient ....This is the 2nd job they have done for me ..Thanks again guys job well done !from a very happy customer 😀

Robyn Smith
03:58 15 Jul 20
Adam did a wonderful job of replacing our down light and other lights. The service was efficient and was of a high standard. Thank you

Stephanie Deller
03:34 13 Jul 20
Excellent service and Adrian was lovely. The boys even cleaned up! What more could a girl ask for. Highly recommended these guys 👍👍👍

Audra Elliott
02:21 11 Jul 20
Cameron was straight back with a time the following day Adrian was the electrician that did the job....Curteous, professional and even got a few extra jobs looked at while he was here. 100% satisfied customer and now have a go to electrician for life!!

Michael Goerner
04:01 10 Jul 20
Nothing is too much trouble for Cam and the boys and the customer service is simply wonderful!I had quite a complicated indoor horticultural system that needed to be relocated at short notice, Cam gave me a rough quote on the phone and was there the next morning to check it out. By the end of the day my plants were moved safely away from prying eyes and the final invoice was $50 cheaper than the original quote!Seriously impressed and will be using Millerwatts for all my future electrical needs. Thanks Cam !

Thomas Evans
04:24 09 Jul 20
I found Cam and his team to be very professional, punctual and responsive/proactive with communication. I had a few appliances installed so it was a messy job - but the team left it cleaner than it was when they arrived and helped me move items to my car.Cam explained things really well to me which was awesome. Can't wait to recommend to friends!

Deanne Charter
02:18 06 Jul 20
These guys are sensational, saved us big time, we had a power short due to heavy rain late on a Friday. Faced with having a weekend ahead without TV, WIFI and fridge was a real worry, but these guys where at our door right on time 5pm Friday. Fixed it, where really friendly and highly professional - highly recommended.

David Smith
07:39 03 Jul 20
Got a fluorescent light upgraded to a LED and it couldn't have been a more pleasant experience. Cam made the quote and booking easy, Adrian and Adam came and installed, all were legends. Highly recommend

Alistair Corry
22:42 01 Jul 20
Cam and the team at MillerWatts Electrical were absolutely brilliant. I had to call them out late on a Friday night (bad timing enough) , but they were extremely prompt, professional and friendly.MillerWatts were very fairly priced compared to some other electricians I had viewed online, and I'd happily recommend their services.Thanks guys!

adam carter
06:09 30 Jun 20
Couldn't be happier. Cameron and team were efficient, clean and reasonably priced.

Bianca Mercogliano
06:02 30 Jun 20
Carried out the required power point upgrades and light fitting replacement with no fuss

Martin Kennedy
04:34 30 Jun 20
Highly recommend! We had an issue with an exhaust fan in our bathroom - Adrian was super responsive and organised.

Cassie Hancock
11:45 25 Jun 20
It was a pleasure to deal with Millerwatts Electricians. Adrian attended promptly, completed our job quickly and professionally, with no mess left behind. I would not hesitate to use again or refer to friends.

Sharon Modica
22:52 18 Jun 20
Adam was very professional, arrived on time and completed the job that was required.

Pavel Cherepanov
01:06 02 Jun 20
Highly recommended. We engaged Millerwatts to replace our old switchboard, install a new split system, and replace some light fixtures. Cam was very responsive, came around to look on the day we called, and issued a quote promptly. He responded to questions on the quote and adjusted where needed.Cam, Adrian, Adam and Brad were all friendly and efficient when conducting works, and did a quick and clean job in a pretty tight apartment space. Everything is working as it should. We are very happy with the service and quality of work, and would recommend Millerwatts for residential electrical works. Thanks guys!

Oscar O'Bryan
04:47 29 May 20
Helpful and friendly, and completed the job fast. Thanks again!

Lowana Leereveld
02:52 29 May 20
We had 3 socket boards increased & additional RCDs added to the switchboard. Adrian was on time and completed the work professionally and neatly. I recommend them for small or larger works.

Nigel O'Neill
00:52 21 May 20
These guys are great . On time , reasonable prices and very neat and precise install.I could not be happier with the work they did at my house I'm so glad I found them early on into my renovation .There is more to be done will definatly have them backRohan

morefunwithme
22:57 17 May 20

We aim to leave a positive impression on every one of our clients, treating their home or business as we would our own home.

We stand by our workmanship. If you have an issue with work we've completed in the future, you can always call to have us take another look.​

We arrive on time, and work professionally and efficiently, so you can get back to what's important!
CAN WE OFFER ADVICE OR HELP YOU WITH ELECTRICAL WORK?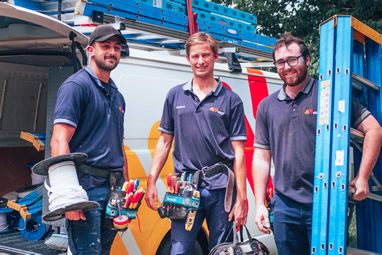 If you have an emergency electrical requirement in the Greater Melbourne region or would like to discuss your project, please call us now.